Our Vision
May the power of your healing spirit bring beauty, joy, compassion and love into your life and the lives of those you love.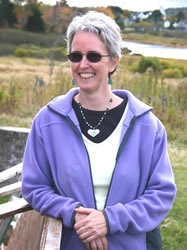 Connie Harter-Bagley - born 1957, Pittsburgh, PA
Master Potter since 1980
Connie's Clay of Fundy founded 1986 clayoffundy.com pottery website
Certified Kripalu Yoga teacher 1996 rivermeetsthesea.com yoga and dance website
Certified Shake Your Soul Danskinetics teacher 2006
Certified Yoga –Ed trainer for schools 2007
Buddhist vows taken 2006
Musician, composer, drummer, guitarist, vocalist
Mother of two
Mission
As a master potter and jeweler, as a yoga and dance teacher, I would like to bring the mind body and spirit connection of joy, compassion, and love to you, and these singular pieces of soulful beauty.
Please take a look at some of our friends sites on our links page.